Learn. Explore. Create.
It's September in Jackson Hole. Summer has lost her momentum and Fall is upon us. The leaves have begun to turn their golden yellows and oranges. The days are cooler. The air is crisp and clean. The elk are entering their rut and bulls can be heard bugling for miles. The valley is calling for you. Every inch of this park is begging to be photographed. From the tiniest mammals to the grand spectacle of the Teton range itself. Are you ready for an adventure?
Camera Fundamentals
Understanding how to use your equipment is crucial for capturing images. Duh right? Well with the sophistication of cameras these days, it's pretty easy to grab a decent photo on the AUTO setting. On this trip we're going full manual. You'll learn how to unlock the complete potential of your gear which will give you the edge over all of those other AUTO shooters out there. Don't fret though. We don't expect you to be an expert or to have all the answers after the first day. We'll be there every step of the way to guide you through shooting on the correct settings as well as explaining why they are the most optimal for the situation.
Wildlife
We are entering the park during a prime wildlife period. The deer family have lost majority of their velvet. Giant bull moose and elk are roaming the landscape. It's also common to come across bighorn sheep and mule deer. Bison will frequent the area and offer us some beautiful picturesque scenes as they graze in the foreground against fall foliage and the Tetons. We'll learn how to transition to a wildlife state of mind from a camera perspective so that you may easily shoot landscapes to animals without missing any moments!
Rises & Sets
When you don't have a lot of time on your hands in the park it may be difficult to pick a location for shooting the sunrise and sunset. Luckily, our guides know where the best places are. Each day we will go out to photograph the sunrise and be ready and prepared to photograph the sunset. No two days are alike. With weather and cloud cover varying expect to get different dramatic shots each day.
Astrophotography
Just because the day is over does not mean the photo opportunities are. Grand Teton National Park boasts wonderful dark skies. If our expedition lines up with ideal conditions an optional night excursion will be offered. If you still have some energy and you want learn how to capture the milky way then our guides will take you out and literally give you the stars.
3 days
Maximum Group Size: 4
DATES: September 28-30 2018
COST:
Single-$499
Couple-$800
Price is per person. Accommodation is not included in the cost. Airfare to & from Jackson Hole is not included in the expedition cost.
**This is a rendezvous trip. Meaning we will all meet up each day before heading out in to the park. If we can coordinate it early enough we may all be able to book a campsite or hotel in the same location.**
A message from your guide:
Are you ready
for
an adventure?
Hey everyone! Thanks for showing some interest in the GTNP Rendezvous trip! This will be the second tour of 2018 and we're going to do it a little different than the tour we ran earlier this year in Banff National Park (go check out Banff in destinations). We wanted to start out in GTNP with a small group at an affordable price. We're calling it the Rendezvous trip because we're giving people the option to just meet up with the tour every morning and even drive themselves if they'd like. Hopefully, once everyone has signed up the group can coordinate renting an air bnb, hotel or campsite. Personally, i'll most likely be camping because well nothing beats cooking over a fire after a long day taking pictures through the park!
I will have a vehicle that can carry all attendees and am more than happy to help with pickups and drop offs. I can also assist with all the finer details of your trip as far as traveling, where to stay and camping supplies.
You would fly in to Salt Lake City, UT or right in to Jackson, WY. Frontier flies in to Jackson at a very affordable rate!
If you're interested let's have a phone chat or video call and we can go over all the specs!
I hope to see you on the trip! Let's go capture some beautiful photos!
-Jay
Your Guide:
Jay Kazen--published wildlife and landscape photographer. Jay is very knowledgable about GTNP and the neighboring area of Wyoming, Montana and Idaho. He will guide you to some of the most beautiful and iconic spots in the park. Once there, Jay will work with you 1 on 1 helping to frame, capture and edit your images.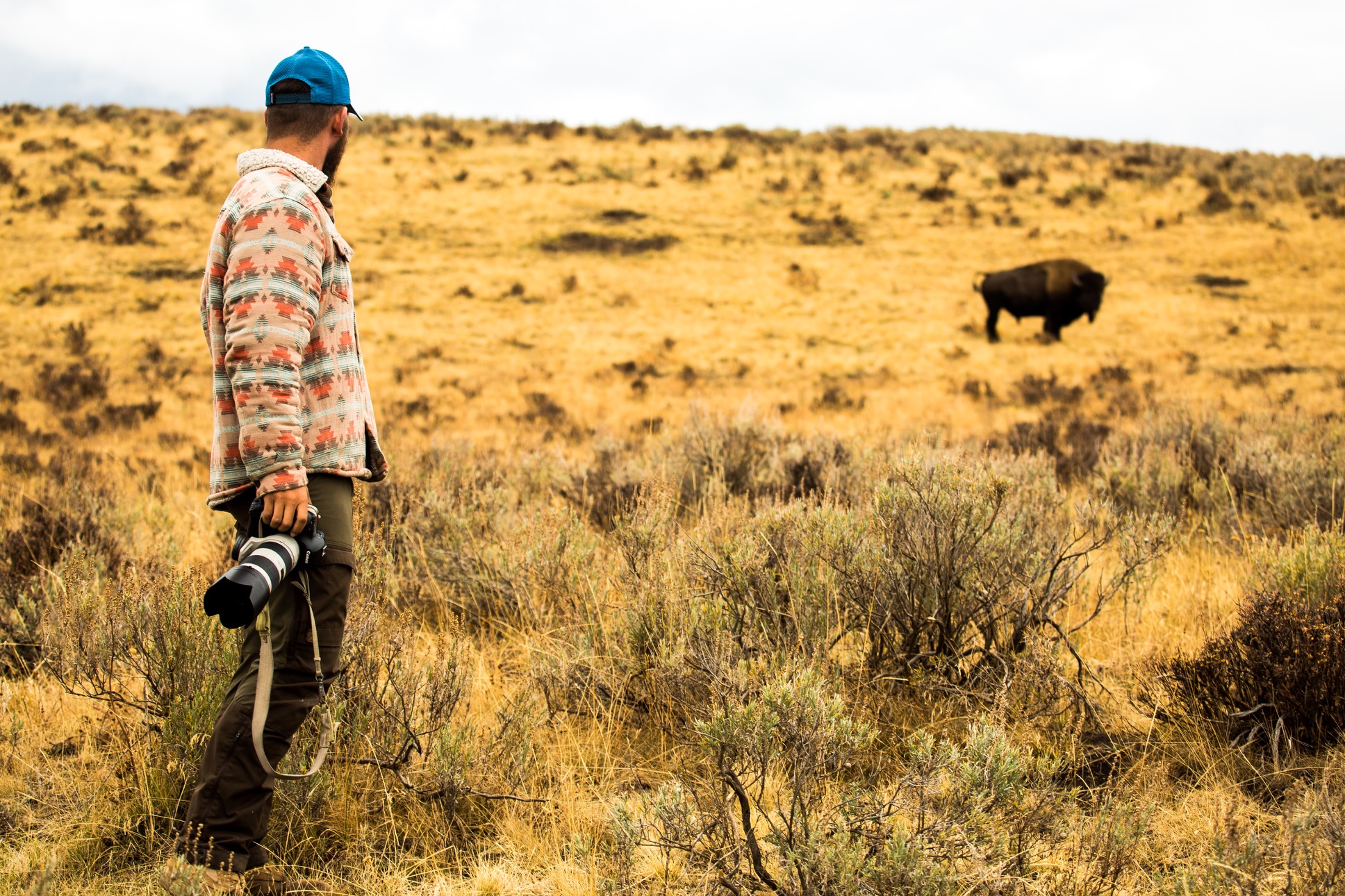 Wyoming, USA
The Wild Summit Experience
Accompanied by a naturalist, you will search for native wildlife of the GTNP area.
Learn the ins and outs of capturing scenes and wildlife in the field with an expert photographer.
Learn how to edit your images in Adobe Lightroom and perfect the "camera to print" process.
Make new friends and network with other photographers
On This Trip
Following our daily shoots we will have time to go over your images 1on1 and learn how to properly edit and export your images in Adobe Lightroom.
Camera Fundamentals (shooting on full manual mode)
Shooting RAW images vs JPEG
Capturing vertical and horizontal panoramas
Creating natural looking HDR images
Perfecting and editing your images in Adobe Lightroom
What To Expect
This expedition is designed to accommodate guests for light to moderate activity. Almost all trails that you embark on will be at least be clearly identifiable. Some spots are steep grade and we may climb over a few obstacles to capture the most ideal shooting angle. Be prepared for a full day of walking.
More Questions?